Software Asset Management Professionals
SAM Solutions Designed with IT and Financial Professionals in Mind
Software Asset Management
Take control of your software licenses and pay for only what your organization needs. Take your licensing from chaotic to clean and find big savings in your software spending that you can put to better use.
Software Audit Professionals
Put Software Licensing experts on your team. We've worked for the vendors and know exactly how they work. With MetrixData 360, we take the guesswork out of Software Licensing.
Contract Negotiation Services
We've negotiated over $1.5 billion in software contracts against the biggest vendors. Give your company the MetrixData 360 advantage during your next big software purchase.
We use several pricing methods depending on your engagement. Our services are priced according to your needs. Your company is unlike any other and our services reflect that.
Software Licensing Superheroes
Don't get caught by a surprise audit and massive compliance gaps. Your software licenses need to be managed. Take control of software spend and rein in the money going to your vendors. Get the professionals at MetrixData 360 on your team and save your IT budget up to 30% on software licensing.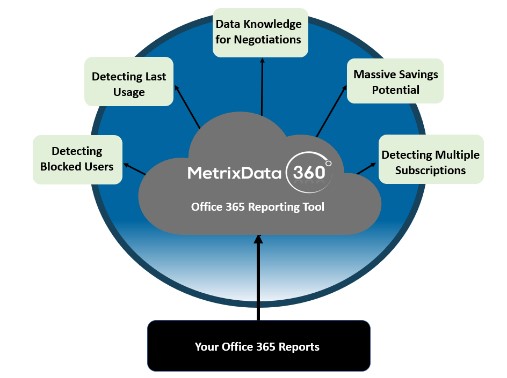 Looking for Better SAM Tools?

The Software Asset Management industry has a problem. Their tools just don't work as they should. This is why we have invested in creating our own tools to do exactly what every other tool should do – give you clear insight into your data. We custom built our suite of tools to meet the unique challenges presented by each publisher.
Learn from the Pros
Our Learning Center is regularly updated to bring you the absolute best information necessary to build your own Software Asset Management program. Get industry updates, insights to the software market, and usable information you can implement in your own Software Management strategies.
Do you feel like you are likely giving Microsoft more money than you need to for your Office 365 or Microsoft 365 licenses? Feeling confused about how they bundle products and what features and functions that your users are actually using? Imagine...