Certero Asset Studio Software Asset Management Platform
Choosing The Right Software Asset Management Platform…Here's Why MetrixData 360 Chose Certero's Asset Studio.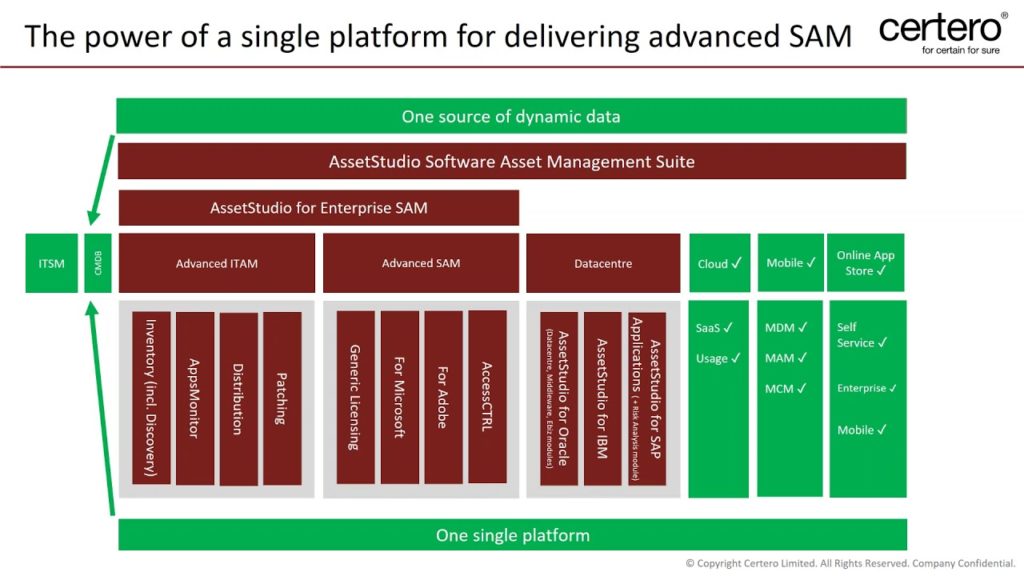 Asset Studio from Certero Fully integrates with ITSM tools to provide the richest IT management experience
This platform delivers one single, dynamic data source, thereby facilitating all the associated benefits of having access to real-time information covering all assets across your whole IT estate.

Asset Studio solves all the problems associated with having to manage multiple products from different vendors, by managing only a single platform designed to work straight out of the box.
Multiple Publishers and Cloud applications support
Supports all major software publishers such as Microsoft, Oracle and IBM

Supports collection of data from virtualization technologies such as: HP, Microsoft Hyper-V, VMware ESX, Citrix XenServer, IBM, Linux, Unix and Oracle.

Monitors the usage of all cloud apps, all the time and does not require a specific list of applications to be pre-defined to be effective.
    Software discovery options
Discovery & inventory all managed directly within the solution

Works across all platforms: Windows, Mac OSX, Unix, Linux, Android, iOS, and even mainframe (e.g. zLinux).

Extremely flexible, utilizing agentless, agent or a combination of both depending on the requirement.

Fully captures how and where software is installed or utilized covering virtualization, thin client, CPUs, cores, clusters etc.
  Software recognition & normalization
A comprehensive and powerful catalog containing hundreds of thousands of software applications and thousands of software publishers used to build a meaningful list of software (title, vendor, version, release date etc.).

Easily transform raw data from an AssetStudio Inventory or any third party ITAM tool (SCCM, Altiris, LANDesk, FrontRange and more) into simple, licensable products.
Licensing optimization
Built-in intelligence covering the latest licensing programs which are maintained automatically through Certero's SRDB service.

Enables delivery of accurately generated ELPs, facilitates licensing optimization, via highly automated intelligence.

Ability to add in associated usage rights and metrics for the vendor in question and apply them through the tool for subsequent management and optimization
Have Questions About Software Licensing? Contact Us!