Have Complete Visibility and Control Over Your IBM Software Licensing
Manage Audit Risks and Reduce Enterprise Agreement Costs
Ensure ILMT Deployment and Configuration Compliance to Enjoy Sub-Capacity License Discounts
IBM license management is a unique practice involving multiple disciplines and highly specialized processes. It also requires both licensing and technical expertise, which can often prove difficult and costly for an end-user organization to purchase and maintain.
When it comes to IBM audits and contract renewals, our team consist of ex-IBMers who are continuously renewing their expertise in order to create a level playing field for our customers.
Self-Assessment – Estimated License Position (ELP) Creation & Optimization
At MetrixData 360, we offer an internal audit, remediation, and advisory service using audit methods that are identical to the ones used by IBM official audit partners, such as Deloitte and KPMG.
Like many of IBM's software customers, you may be confronted with challenges such as limited visibility in your license position and a lack of confidence in your data quality when placed against the scrutiny of an audit. We can help to reduce unknown factors by conducting a full internal audit to give you the confidence that comes from having complete visibility on risk and saving potentials on your IBM software licensing. Most importantly, we aim to empower you with the knowledge to make informed risk mitigation and cost saving decisions that best serves the interest of your company regarding IBM software.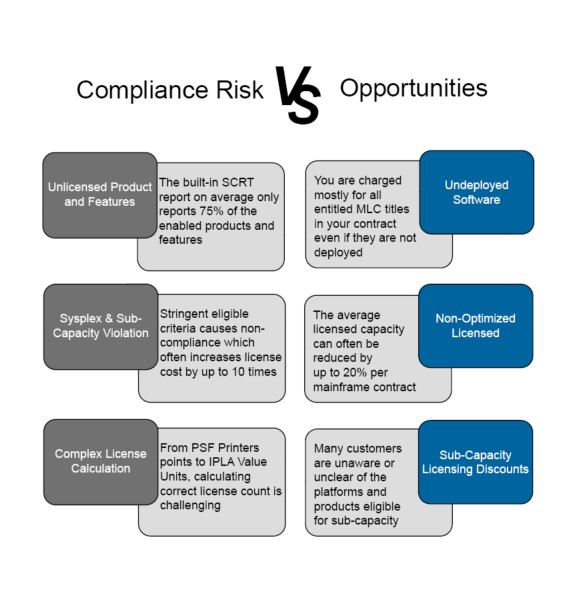 Mainframe License Management
Only a few specialist firms globally can effectively address License Management in IBM's mainframe. It is a very specific niche that we are proud to be a part of.
Our specialized mainframe service can identify not only any compliance risks that may exist in your company's IBM software, but also highlights significant saving opportunities from mainframe contracts and systems.
Our clients have often experienced a struggle with visibility in their monthly bills (MLC) and/or have been are unable to generate complete reporting from SCRT (Sub Capacity) due to both the technical and contractual complexities typically associated with any IBM mainframe architecture. To address this issue, we offer a full contract review (ESSO/SSSO/ NGSA), internal audit, and independent data discovery solutions to help you avoid audit penalties and generate savings from several areas.
Enterprise Agreement Review and Optimization
Our team will optimize and reduce the cost of your next IBM Enterprise Agreement (SSSO/ESSO/NGSA/Sapphire).
We will establish your current and forecasted requirements and from there, we will advise you on the most appropriate metrics and models for your needs. Our insight from some of the largest IBM enterprise agreement globally allow our clients to maximize the value of their software. Our many years' experience with IBM means that we can help you to negotiate complex terms such as substitution clauses, Cross-Brand Allotment ("CBA"), unlimited usage agreements, or audit waivers that are more cost-effective to minimize unplanned spending.
Software Audit Defense
We can help you to proactively manage and defend IBM audits initiated by Deloitte or KPMG to minimize your business's financial exposure. Our clients have come to us throughout different stages of the IBM audit lifecycle, from hearing mere rumours on a potential audit notification letter to failing to close on a "best" settlement offer. We use our technical expertise to maximise our client's remediation effectiveness prior to data release and apply our commercial experience to help our clients negotiate settlement deals that are often a fraction of IBM's initial claims.
An IBM Success Story
The Situation:

A national bank, after being a loyal, enterprise customer with IBM for twenty years saw the brunt of a long string of heavy audits. The bank had been consuming IBM software in both distributed and mainframe environments and was in the fourth year of a five-year, $120 million Enterprise Software and Services Agreement. Since the bank had such a long history and a hyper-complex agreement, the bank had very little visibility and control over their own IBM environment and as a result, their overall contract costs had been steadily increasing between 20%-30% for each renewal. To make matters worse, ad-hoc spend beyond the ESSO was frequent and difficult to control. The bank had been audited prior to their last two contract renewals and found it difficult to remain in compliance. They found themselves having to increase their contract value after every audit in exchange for a settlement.

Our Solution:

Through partnering with MetrixData 360, the annual contract cost in the new arrangement was reduced by 17%. We were able to do this by terminating unneeded support for approximately 10% of the license portfolio, as well as reducing support quantity for an additional 32% of their license portfolio. We were able to negotiate unlimited usage right for DB2 Advanced Enterprise Edition and WebSphere Application Server Network Deployment at no extra cost. We also successfully conducted negotiations so that the audit clause was removed during the next contract period, which would be another three-year commitment with a five-year price guarantee. We also negotiated so that our client can license a legacy estate on sub-capacity terms without deploying IBM License Metric Tool (ILMT).
Become Our Next Big Success Story and Book a Meeting Today!