Is a Messy IT Environment Wasting Your Money?
An ITAM Maturity Assessment allows your company to gauge exactly what IT hardware and software your organization is using, and what you're paying for. By tracking your IT assets as investments, your organization avoids wasting money on frivolous hardware, software, and services that drive up IT costs, while capitalizing on savings opportunities as they arise.
An Efficient ITAM Process Could Save You 20% or More
Go into your contract negotiations with a shopping list of exactly what you need. By buying only what your organization requires, you avoid sales traps that sounds good but end up costing you more. It also ensures that you buy enough of a product and avoid paying out hefty true-up fees on your contract anniversary date.
A messy IT environment is an auditor's dream. When you don't know exactly how and where your IT assets are being used, the auditors will make assumptions – assumptions that cost you money. Properly implemented ITAM will tell you what VMs and servers are being used for development or deployment; how many mobile devices you have deployed and what software is being used on them – and what isn't; but most importantly, it will give you the information you need to defend yourself against the auditors and ensure that your final bill is fair and accurate.
Boost
Operating Efficiency
Onboarding new employees while old employees leave can wreak havoc on your IT asset tracking. A proper lifecycle plan for your IT Assets is crucial to making sure you do not pay for more than you need or pay for assets that are no longer in use. ITAM processes also simplify deploying resources for contractors and employees, while ensuring compliance before, during, and after new initiatives.
Increased
Information Security
Hacking and Cyber Crime are growing concerns for businesses today. By implementing an ITAM process in your organization, you can defend yourself against online threats. An efficient ITAM process will avoid hackers that exploit outdated software versions by keeping you up to date; identify malicious network activity faster by having a clear picture of what your inventory and usage looks like at all times, and provide control over the offboarding process to ensure only those who need it have access to your assets.
Easy,
Sustainable Scalability
Scaling your organization increases the complexity of your IT assets, but knowing exactly what is necessary for your organization at its current size can inform your decision-making when you expand. This also has ecological benefits since your organization won't be wasting energy running unnecessary infrastructure, like excess servers or virtual machines, or investing in devices with plastics and toxic batteries that will never be used. A proper end-of-lifecycle plan will also account for the hardware waste that can cost a company in eco-fees or provide refunds on recyclable equipment.
Knowing exactly what you have and what you need is the ultimate key to big savings in IT spend. MetrixData 360 provides the most in-depth analysis possible to track down wasted money and unused licenses. Good decisions are made with good data. Get the best data possible with MetrixData 360.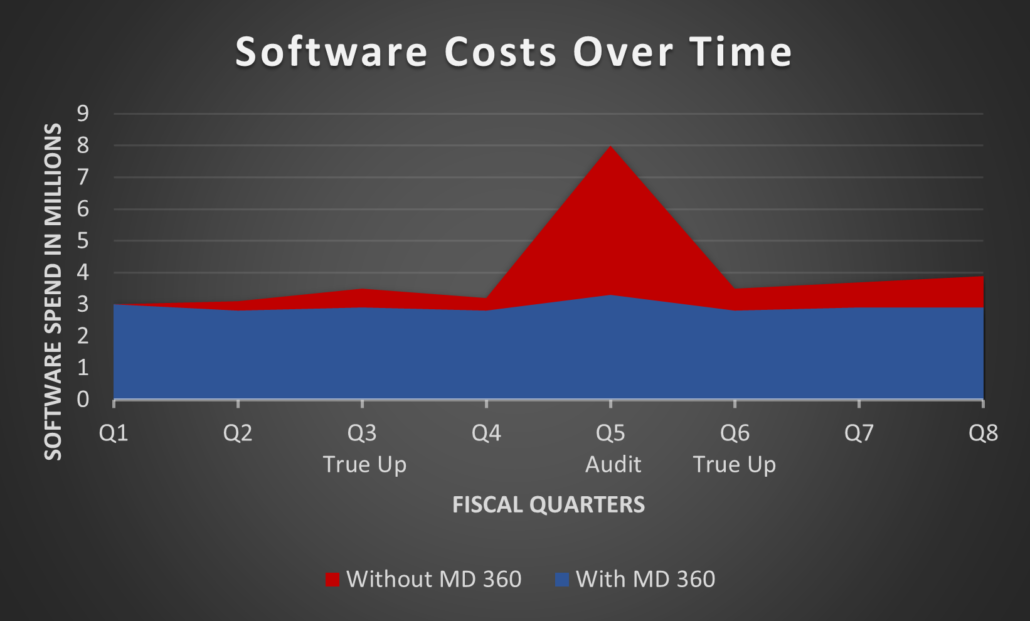 Find Out How Much You Could Save with MetrixData 360
Book Today - Lower IT Costs Are Just a Meeting Away