Waiting for June to Negotiate with Microsoft? Don't Bother!
There is a piece of common wisdom that has been rolling through the Software Asset Management community for a while now: negotiate with Microsoft in June to strike better deals on your licensing contracts. Unfortunately, like most tall tales, it lives purely because it continues to be repeated without regard to data or evidence. In fact, after completing hundreds of Microsoft negotiation projects over nearly a decade and negotiating over $1 billion in license contracts, we can confidently tuck this myth away as little more than folk wisdom. So where did this myth come from? And why has it become so prevalent in the SAM industry? Let's dig deep and dispel this myth once and for all.
June is Microsoft's Fiscal End of Year
The myth that Microsoft is willing to give better deals stems from the fact that June is the end of Microsoft's fiscal year. While many businesses try to shore up any negotiations to boost their end-of-year earnings, we assure you that Microsoft is well ahead of you. For a corporation as large as Microsoft, making a last-minute sale of even a few million dollars at a huge discount for the year-end doesn't make sense on the scale that Microsoft plays at. They know you need their software or face a huge hassle when you try to move away from their products, as the scientists at CERN are currently finding. So why should they care whether you buy today or tomorrow? Microsoft knows they'll get your money eventually.
Aside from the sales rep that wants to make his quota look good, the fiscal end-of-year for Microsoft does not change the margins they are willing to accept during a contract negotiation. Microsoft didn't become the industry giant they are by painting themselves into a corner when negotiating. In fact, going into a negotiation with the assumption of being on a deadline is a great way to pay more. To quote Chris Voss in Never Split the Difference, "Deadlines are the Boogeyman of negotiation–almost exclusively self-inflicted figments of our imagination, unnecessarily unsettling us for no good reason." By assuming you have a deadline of June 30th to close a deal, you're robbing yourself of the best tool any negotiator has: TIME. In the end, Microsoft doesn't care whether your contract gets put on the books for this year or next, they just want your money.
Microsoft Made $118 Billion Last Year
Let me say that again for those in the back: Microsoft took in over $118 Billion last year. To give you a sense of scale, consider that a $1 Million dollar license contract is less than 1/100,000th of their total revenue. Even signing a $10 million contract would be less than 1% of 1% of their total revenue. For many organizations, a million-dollar deal either is a huge expense or a boon, depending on what side of the contract they are on; for a company like Microsoft, it's pocket change. Those looking to craft a deal under the pretense of boosting Microsoft's end-of-year bottom line fail to realize where they sit on the scale of a company like Microsoft. The truth is your contract is a drop in the ocean of Microsoft's revenue. That doesn't mean that Microsoft isn't willing to sit down and talk, however. Making a dollar is still better than not making a dollar, as Economists like to say.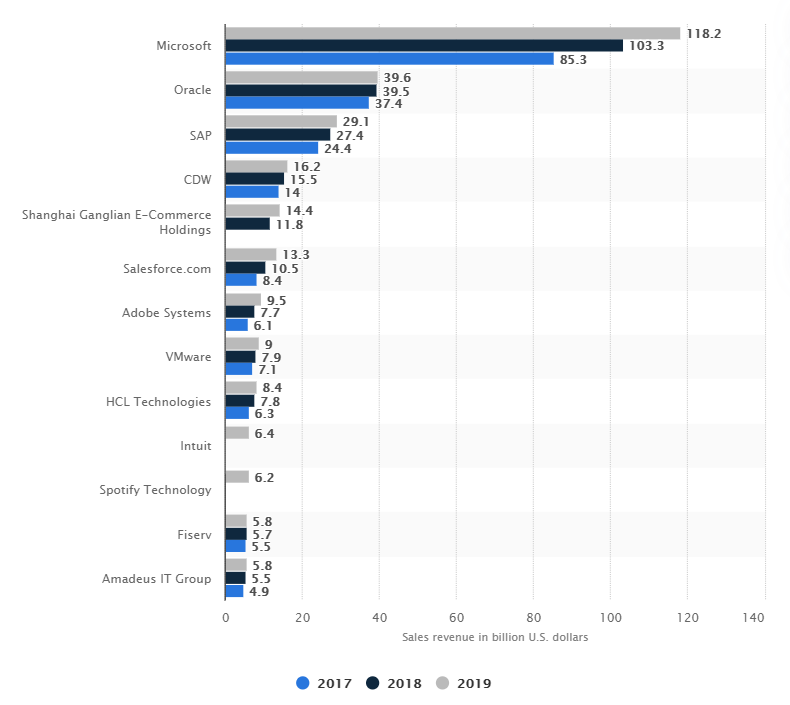 A Drop in Microsoft's Bucket
Now that we've established how little your contract contributes to Microsoft's bottom line, it's time to shift your thinking when you go into a negotiation. There's a good chance your company is not as big a fish they want to negotiate as. When it comes to bringing clout to the table, there are not a lot of players that can shake Microsoft. And that's okay. Now that you know your agreement won't have debilitating effects on Microsoft's bank account, it may seem that you've lost your leverage. But you haven't. Instead, you are now in a better position to negotiate because you understand the reality of the situation. Negotiating from a false position is reckless at best and could end up sabotaging your own efforts.
When IS the Best Time to Negotiate with Microsoft?
Unfortunately for those looking for the best time to enter into talks with Microsoft, the answer isn't found on a calendar. The best deals are made through good negotiations and a solid understanding of both parties' positions. When it comes to negotiating with Microsoft, there are a few tips and tricks you can use to get a better deal.
Have Accurate License Inventory
The easiest way to be sure that you don't give Microsoft more money than you need to is by maintaining an accurate list of your license inventory and use. This data will guide you in how many licenses you need, the type of software your organization needs, and give you leverage when you enter negotiations.
Don't be Intimidated by Microsoft
A second tip is to stand your ground. It is easy to be intimidated once talks with Microsoft begin. Microsoft is one of the biggest dogs in the park, and all that clout can be intimidating. The truth, however, is that a good negotiation is one that both parties walk away feeling satisfied with. By knowing what you want, why your position makes sense, and sticking to that position, you have a better chance at striking a deal that works for both parties.
Hire a Professional Contract Negotiator
For those who still don't feel comfortable going toe-to-toe with the biggest player in the software industry, hiring a professional negotiator can be a reasonable solution. Negotiators in this realm often know Microsoft's negotiating tactics and limits. By hiring a third-party provider who understands how Microsoft as a company thinks, your team can effectively counter Microsoft's tactics and/or be better prepared for how they will react to your offers.
Facing a negotiation with Microsoft can be stressful. Let MetrixData 360 relieve some of that stress by preparing you for dealing with vendors through our Learning Center. If you still have doubts about your organization's ability to negotiate the best possible license contract, contact us and let our expert software license negotiators handle it for you.