We have done a significant amount of work with clients recently preparing them for the changes that Microsoft made to SQL Server licensing.  Contrary to how Microsoft has positioned these changes in the market, most of our clients have faced price increases of 50% to 100% or more on their SQL Server licensing costs!
Don't have time to read this right now?
SQL Server 2012 License Changes
During the launch of SQL Server 2012 we were given the impression that SQL was transitioning to Core based licensing to allow clients the opportunity to purchase based on capacity.  In other words, as servers become more powerful and virtualization becomes more prevalent – clients can virtualize their SQL Servers and license based on capacity (Cores in use in Virtual environments) or license all cores in a server and have unlimited virtualization rights (requires SQL Enterprise with active Software Assurance).  On the surface the concept seems to make sense and promises savings, but in practice it costs clients more for their SQL Server licensing. 
Consider the following:
1 SQL Processor license = 4 SQL Core licenses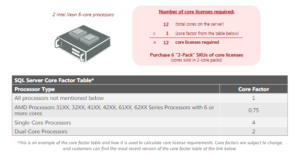 SQL Servers That Are Not Impacted
For older servers there is really no price difference as most of those servers are running less than 4 cores per processor (we will ignore the impact of SQL Enterprise Server/CAL model disappearing for now) and the price is the same.  For more details on how SQL Server 2012 licensing works you can download the SQL 2012 Licensing Guide here.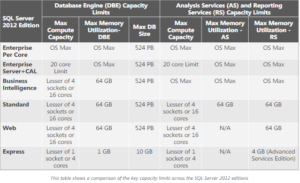 SQL Servers That Are Impacted
The challenge is that most new servers are running 6 or more cores per processor (many as high as 32+ cores per processor) and for each of these your licensing costs continue to multiple.
The only way to avoid this multiplying licensing cost effect of Cores is to consolidate and virtualize your SQL Servers.  This is easier said than done as many of the applications that reside on these servers do not allow for deployment under these scenarios.
How Will SQL Pricing Changes Impact Users?
Let's take a look at a hypothetical client (these clients exist out there):
Here is the scenario:
In 2nd year of an Enterprise Agreement

Currently have SQL Standard Servers, SQL Enterprise Server and CALs (for all users) on their EA

Have a SQL Standard Server Processor license but no SQL Enterprise Processor and no step-up option (to allow a move from SQL Standard to Enterprise)

Deploying a new "internal use only" SQL 2012 Enterprise that will be on a cluster of 2 servers with 32 cores each (total of 64 cores) deployed physically

Would normally purchase a SQL Enterprise Server and use all their CALs that they currently own to license this application
Worried that you are not licensing SQL Correctly?
Click here for information on our SQL Server License Optimization services.  
SQL Enterprise Server CAL Eliminated
Upon the launch of SQL 2012 Microsoft eliminated SQL Enterprise Server/CAL option. The only way to purchase SQL 2012 Enterprise is via Core licenses.

SQL Server/CAL Licenses
Can't this EA customer just use their SQL Server Enterprise Server CAL licenses?  That's a great question! Let's look at what the SQL Server 2012 licensing rules state for this client:
"SQL Server Enterprise Edition Customers Licensed Under the Server+CAL Model

As of July 1, 2012, Microsoft will no longer be offering SQL Server Enterprise Edition under the Server+CAL license model. Current customers with active SA coverage for existing SQL Server 2008 R2 Enterprise Edition server licenses should consider the following when transitioning to SQL Server 2012:

SQL Server 2012 Enterprise Edition server licenses will be available on price lists through June 30, 2012. EA and EAP customers with active agreements on this date can continue purchasing new licenses until the end of their current term.

After their current term expires, SA coverage can be renewed and maintained on SQL Server Enterprise Edition server licenses to provide continued access to SA benefits, including License Mobility rights and access to future releases."
Sounds good so far, doesn't it?  
Lets continue:
"SQL Server 2012 Enterprise Edition software licensed under the Server+CAL model is restricted to only run on servers with a total of twenty cores or less: There are now two versions of SQL Server 2012 Enterprise Edition software: a server-based version and a core-based version. Customers must run the software version for which they are licensed.

For customers running SQL Server 2012 Enterprise Edition server-based software instances in a physical environment, that OSE is only permitted to access a maximum of twenty physical cores. A per instance technical limit is also enforced."
WHAT!!!!  They limit it to 20 Cores?????
Yes that is correct! This customer cannot license their new deployment via server/CAL even though they have an active EA because the server will use more than 20 cores (they are running 32 Core servers).
How Much Does SQL Server Cost Now?
Under an EA Level A they would have trued up 2 x SQL Server Enterprise for approximately $30,000 total (for the 2 licenses)
But instead:
Microsoft's suggested solution is to sign an EAP Agreement for this purchase (positioning this as if the client will save 40% off list) as follows:
EAP Agreement – 32 x SQL Enterprise 2 pack Core licenses 3-year total approximately $480,000
The CIO is rightfully upset.  His $30,000 budget was just blown by 16x for this purchase!
SQL 2014 License Change
With the launch of SQL 2014 Microsoft made another significant license change – they removed the right to only pay for the Active Server in an Active Passive Cluster.  They instead added this into Software Assurance (SA) Benefits. So previously you only needed to license the Active side, regardless of where you had SA or not. This change forces you to purchase SA for the Active side of the cluster.
How To Avoid SQL Server Price Increases
The question one needs to ask is if SQL is giving the company a 16x better return than it would have before June 30th?  Nope! Is Microsoft doing him a favor with the EAP offer? Nope! 16x over budget is 16x over budget. We're not talking a 10% price increase here and this is hard dollars!
So what should this client do?  
What should you do if you find yourself in this situation or a similar situation?
SQL Server License Optimization Services
SQL Server is one of Microsoft most confusing licensing models.  It also is one of their most expensive products. This is why we developed a SQL Server Optimization Service.  Utilizing our proprietary developed licensing tool, you can rest easily knowing that you are licensed in the most optimal manner.  If you'd like to read more or the tool, please check it our here or if you are interested in having a call with one of our SQL Licensing experts please feel free to hit the talk with an expert button on the side to schedule a call.