Situation 1: Smoothing Peaks and Valleys
The Situation
A large American software company with BPM Software was suddenly faced with a $1.6M true-up. MetrixData 360 had never dealt with this software publisher before and had never worked with these contracts.
Our Solution
MetrixData 360 reviewed the company's contracts and we used our SAM Compass platform to gather deployment data and reviewed the company's roadmap. Through our efforts we produced the following findings:
We found additional license types that the company didn't need
Reduced the company's spend by $600k
We also discovered that the company was 3 versions behind, had no plans to upgrade and were looking at moving to a new platform sometime in the next 24 months.
The company had a usage pattern that would spike consistently three months out of the year and for the rest of the year that usage would go down. The company was paying for that peak level usage all year round despite only needing it for three months.
The Results
Taking advantage of these findings, we were able to negotiate a new license type for the company: Subscription users, which resulted in a final deal of $450K — $600k less than their previous contract.
Situation 2: Healing the Hospital
The Situation
A large USA Health Company — let's call them 'The Hospital' — with around 50 Hospitals and over 100,000 employees, had been targeted numerous times a year for audits from different software vendors. Each year, millions of dollars of unbudgeted costs and wasted company hours was sent down the drain to keep these constant audits at bay.
The company outsourced their IT operations to a third party; this third-party outsourcer controlled the Hospital's data and was responsible for the Hospital's IT Asset Management. The outsourcer had multiple tools in place that stretched across multiple organizations, with the majority of the Hospital's assets managed on spreadsheets or data charts that were spread across various computers. When they were procuring software in the name of the Hospital, the Outsourcer purchased from multiple places and came up with multiple contracts, resulting in a confusing software licensing environment that was easy to lose track of. The Hospital also had no control over their own maintenance and software spend.
The Hospital was very active in acquiring and divesting portions of their industry. Having purchased other hospitals in the past that carried with them software compliance issues, this would mean that the Hospital often inherited millions of dollars in additional purchases and software licensing issues. The Hospital thought it was an important step in the merger and acquisition process to ensure both themselves and the new hospital understood the additional value of the two businesses combined software environment, through either combining contracts or keeping them separate. However, they couldn't determine the best way to meld their assets without having a complete understanding of what each of their software environments contained.
Our Solution
MetrixData 360 was brought in to manage their audits (2016) and our SAM Compass Process was introduced (2018). As a result of our efforts:
Audit findings reduced significantly (e.g. Microsoft reduced from $10M to $1.2M)
Some audits were resolved with the Hospital owing nothing, and little to no IT Resource time was required to accomplish this since the bulk of the work was handled by MetrixData 360
SAM Compass Provided the Hospital with the visibility they lacked and applied it to all software deployments and organized this data by department
SAM Compass was also used to reduce annual software spend
MetrixData 360 has also begun to help the Hospital to Mature their SAM Process
The Hospital, now that they have a handle on their software assets, are looking to implement centralized discovery and a CMDB
MetrixData 360 does a complete internal audit of all potential acquisitions being considered by the Hospital in advance of purchase. We have uncovered large potential compliance risks that have added additional leverage in overall pricing considerations and saved the Hospital money in the final sale prices on numerous occasions.
Contract Consolidation Analysis has revealed that massive savings are available for the Hospital. These savings were found by discovering that the Hospital's general increase in employees and devices meant that the Hospital could then access greater discounts. Past negotiated clauses and non-standard languages which could be pulled into larger contracts were also harnessed to ensure maximum benefit to the Hospital.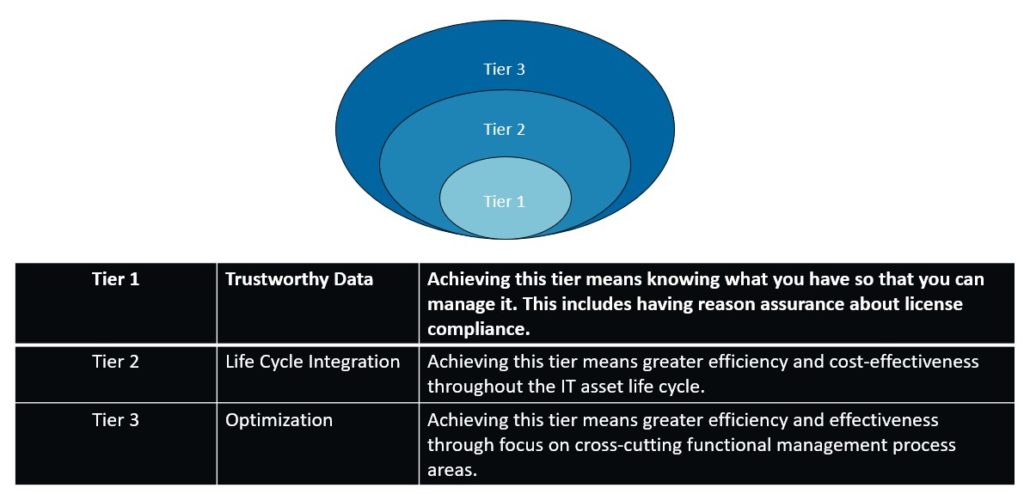 Results
The Hospital now has a Maturing SAM Processes (Tier 2 to Tier 3)
DLP Solution Reduced by 30%, utilizing data from SAM Compass to reduce actual licenses purchased
Reduced BPM Contract. The annual maintenance was reduced 20% and a $1.6M True Up was reduced to $450k
Savings in last 12 months: $10M+