Spend 40% less on Microsoft 365 Licensing  with SLIM 360
You might already know this, but it is almost guaranteed that you are overpaying for Microsoft 365. If you took your Microsoft sales rep at their word, remove that 'almost' from the previous sentence.
The complex licensing structures that Enterprise contracts require are designed to confuse and inflate your spending, compliance liability, and make it harder to track who is using what licenses in your organization.



IT pros use SLIM-360 to control licensing costs in complex environments:
"When we signed the EA we listened to what our Microsoft and reseller Reps told us we should buy. We never should have. We over-paid for 3 years. Money we will never get back. I was shocked when I saw the results. Almost 400 users that never used Office 365 at all. We thought everyone used email, but when we investigated we were shocked. Our field service reps never used a single Office 365 service. We were able to change the license we bought for them and save significant money."
– CIO of Fortune 500 Company
"If you asked me again, I'm still not sure I'd believe it. 1000 Users not using at least email! It was true, we had the data needed to investigate it. I was shocked to find not only Accounts that were not active or even humans that had licenses but that we also had a large population of employees in our distribution centers that didn't even use a single Office 365 service"
– IT Procurement Director
"Amazing is all I can say. With a few minutes' effort to download reports out of our tenant, we received useful data that helped us find waste and reduced our costs by over $2M annually. We couldn't have done this by ourselves."
All client names and case-studies available upon request
The Benefits of SLIM 360: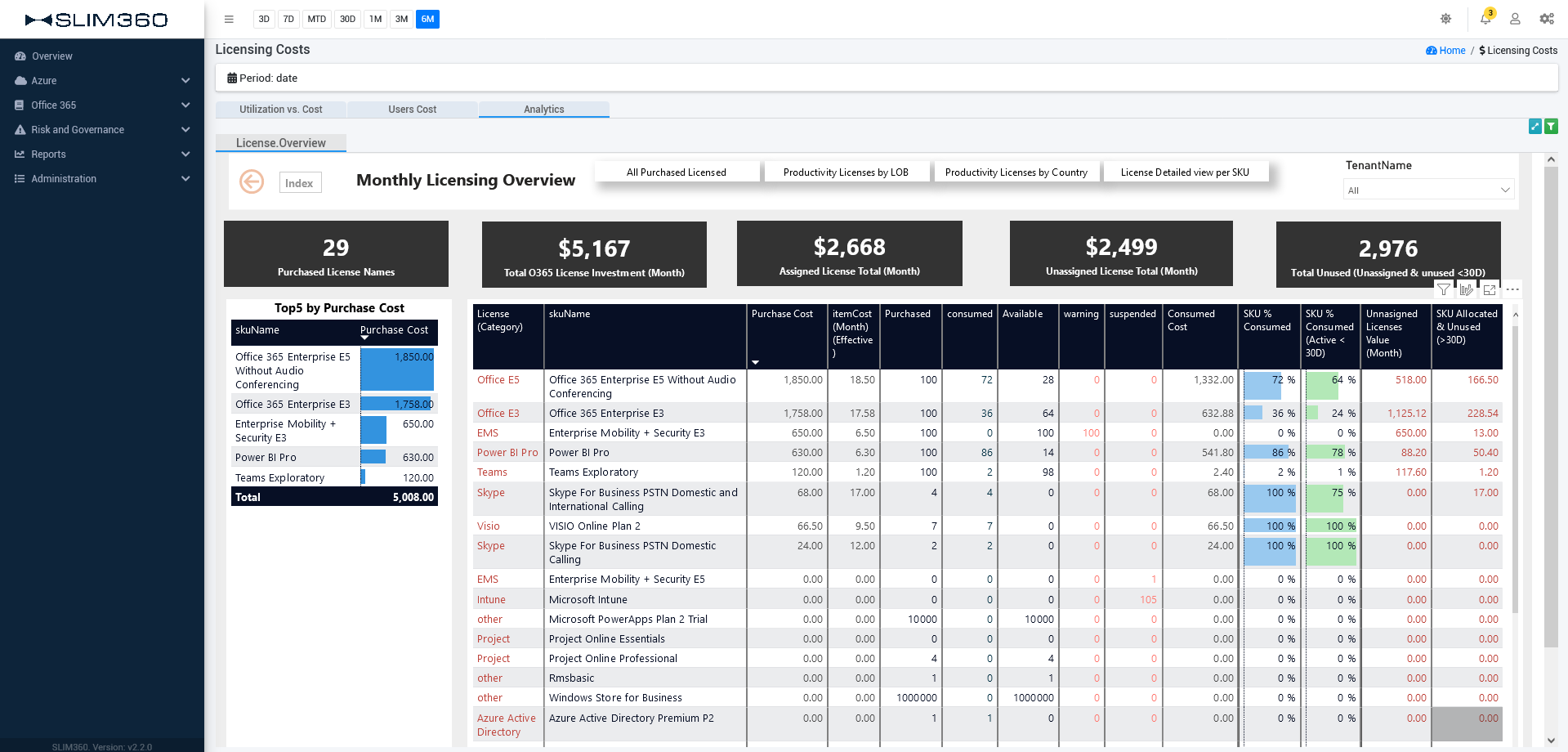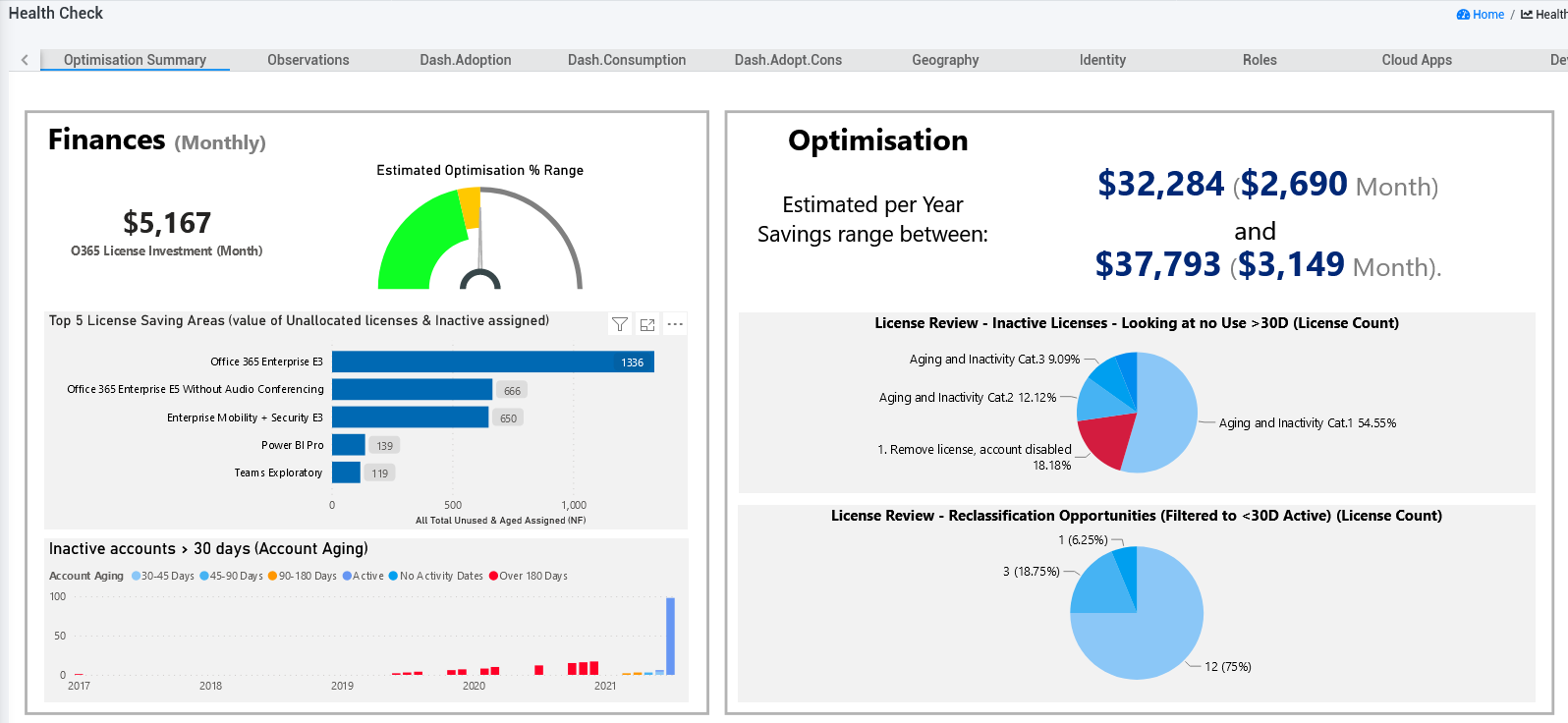 Built to Manage and Optimize Licenses across Large Enterprise Environments
For Enterprise-level organizations, the cost of over-licensing employees can result in millions of dollars per month being wasted, which is why SLIM 360 is designed to compare your usage to the available licensing tiers and highlight where your employees are over-licensed, and how much it is costing you.
Slim 360 creates a streamlined and modern approach to Software Asset Management by organizing your licensing in a way that is both easy to understand and comprehensive. This approach makes license optimization more accessible and more efficient so you can make informed decisions around your software budget..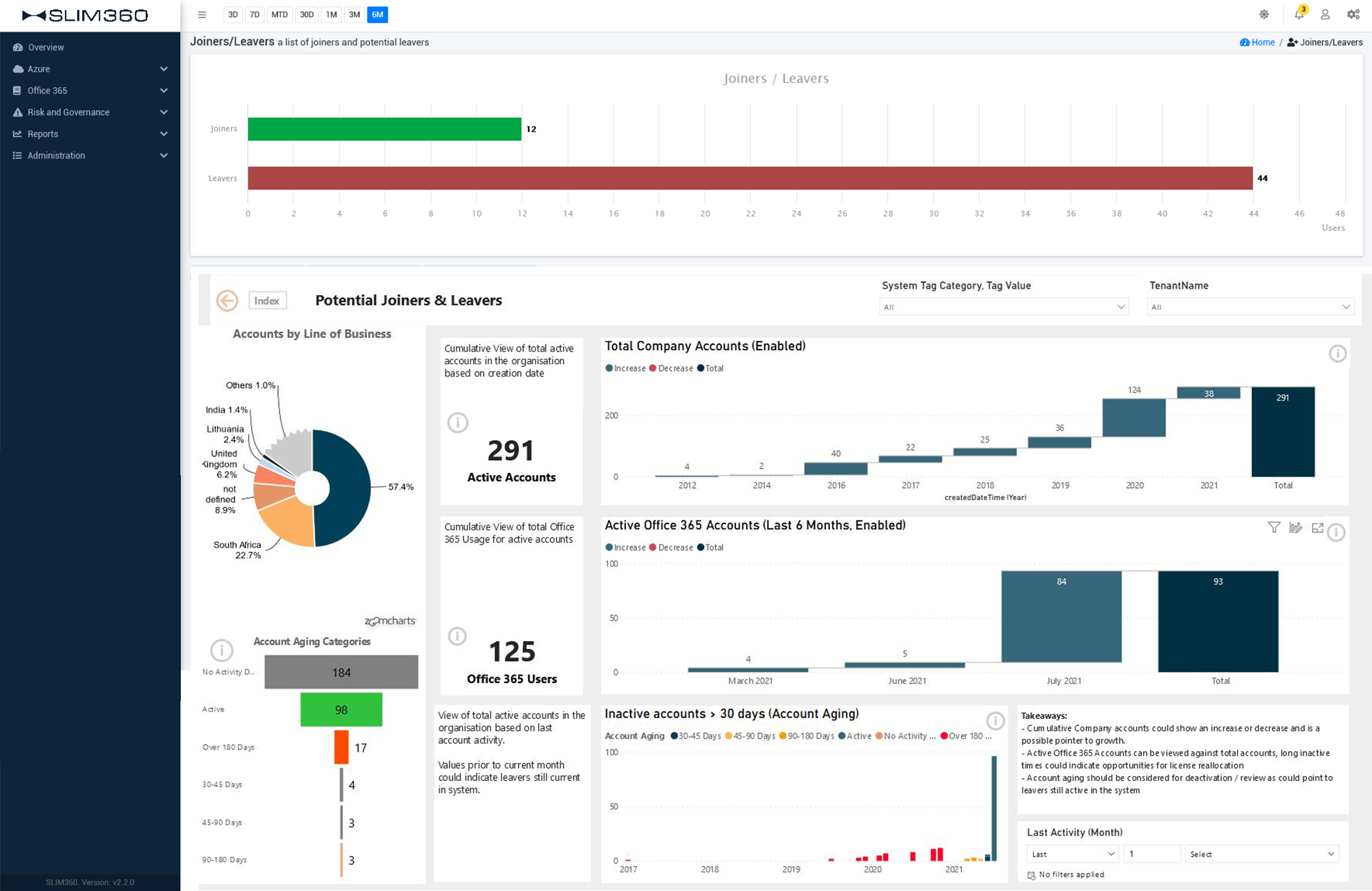 See who's joining and leaving – then optimize accordingly.
Knowing who is coming and going in your licensing environment is a vital part of maintaining control of your software budget and security. Without this knowledge, you're paying for licenses that are still assigned to people who are no longer with the organization. SLIM 360 shows you – down to the user who has joined. left, or at potential to leave so you can avoid over-licensing and block openings for suspicious lingering users in your network.
With SLIM 360 you see how many assigned licenses are actually being used, so you can reorganize your licensing faster, cheaper, and with high confidence that you're not wasting any resources.
SLIM 360 finds licensing savings for you with built-in AI Recommendations

SLIM 360 stops you from wasting time tracking down, stitching, and analyzing gigabytes of licensing spreadsheets by intelligently monitoring your contracts with our built-in AI engine. In doing so, SLIM 360 will show and provide you with:
Alerts on potential cost savings across Office 365 and Azure investments.
-VM and SQL Hybrid Benefit Eligibility
– Azure Advisor
– Automated subscription renewals.
– Security alerts across Office 365 and Azure.

So you can have the freedom to fully focus on license management in your organization.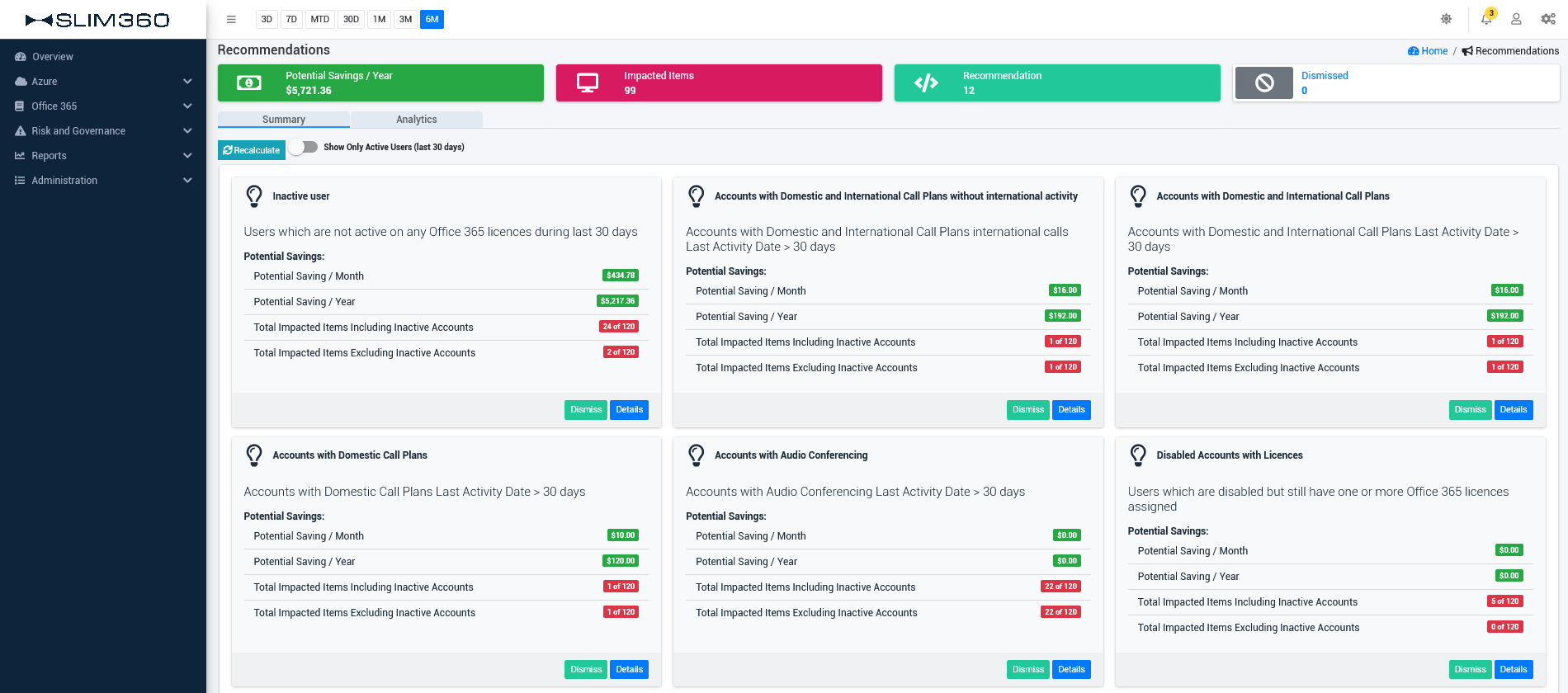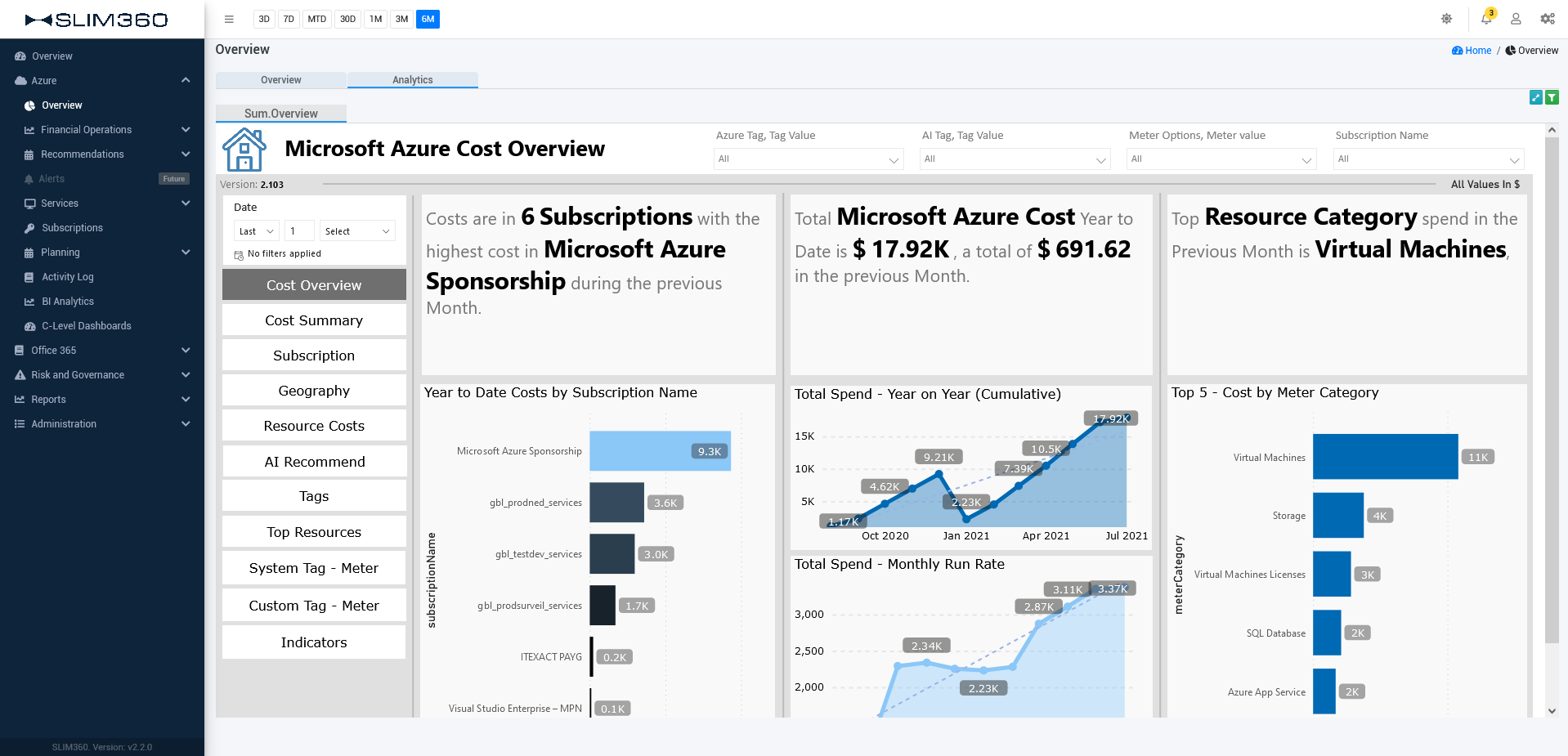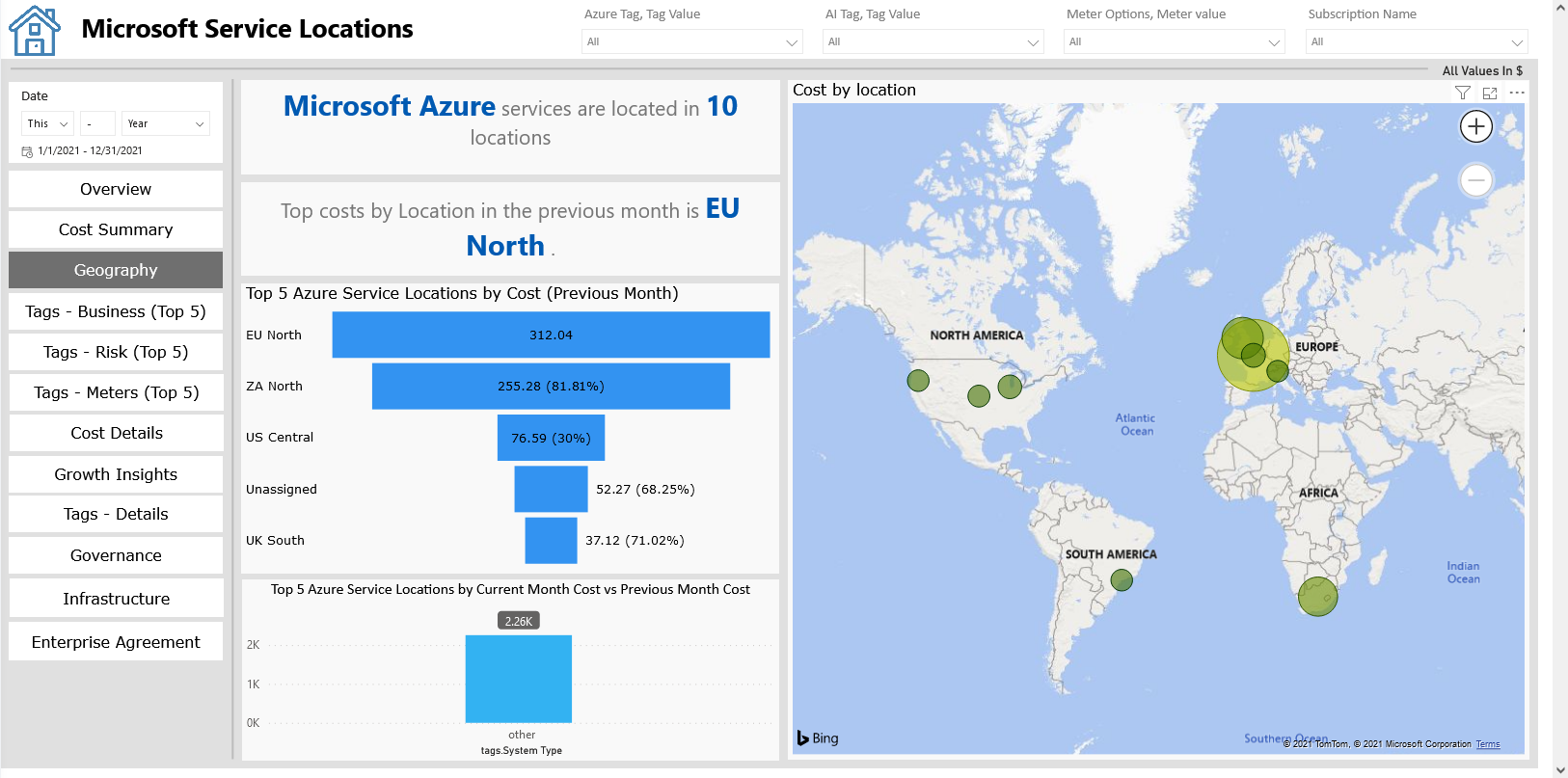 Visualize Cloud Spend Across your Entire Organization

SLIM 360 gives you visibility and control over cloud resource allocation to keep your IT budgets in check. And, while your taking a look into your cloud consumption, you can schedule automatic adjustments to stay within your means which will substantially reduce spending spikes while maximizing savings offered by Microsoft.
SLIM 360 Azure Reporting directly integrates with your Azure tenant to transform complex billing data into clear business information for you to take your reporting to the next level of detail.
Custom AI Tagging System
SLIM 360 has a built-in tagging system that helps you categorize users in many detailed ways. For example, you can see users based on their business department, the country they're operating from, licensing costs, and even based on their Covid-19 Status. You can also create your own tags in the system to create specific groups which can all be exported as a handy report to act on down the line – choosing the best course for your organization has never been easier.
Licensing Usage and Contract Tracking
SLIM 360 allows you to see exactly what licenses your employees are using so you can make sure to stop spending money on O365 licenses or Azure compute resources on employees who don't use them or haven't been active users. You can also prepare your organization for the years ahead as SLIM 360 keeps track of your company's EA renewals and lets you know how much each true-up will cost, how much money is left in your renewal budget, and overall, when a renewal is coming so you can be prepared year round.
C-Level Reporting Dashboards
If you need to show the leadership some high-level summaries of your Teams consumption over the last 6 months, in the past you'd have to slave away pulling reports from your AD and patching them together in excel. With SLIM 360's C-Level Reporting Dashboards, that work is done for you automatically. And if you'd like to dig deeper into the data you still can. This feature gives an interactive visual view into missed usage opportunities, licensing trends, future renewal costs.
A New Way to Cut Your Microsoft 365 Licensing
You might already know this, but it is almost guaranteed that you are overpaying for Microsoft 365. If you took your Microsoft sales rep at their word, remove that 'almost' from the previous sentence. The complex licensing structures that Enterprise contracts require are designed to confuse and inflate your spending, compliance liability, and make it harder to track who is using what. SLIM 360 gives you the visibility you need to find those workers, review their usage patterns and optimize your Office 365 Licenses to suit their actual measured software needs.
Covid-19 Analytics Integration
These days workplace is always evolving, especially when government restrictions fluctuate as case numbers change. That's why SLIM 360 takes in COVID data from various sources and overlays it on a map so you can see which users in your organization are operating in 'hot' zones and could be at risk. You can also tag user's accounts as quarantining, working from home, or on sick leave to manage risks and their software resources in a more efficient manner.
Productivity Measuring
In the Modern Workplaces Productivity Dashboard, you'll see into the productivity and usage of users across your whole organization. You can compare that data against specific groups of your choosing to uncover new productivity stats. For example, you could compare the usage of Microsoft Teams against users in the office vs. users working from home and quickly get a feel for which group gets the most usage out them. Drive smarter licensing decisions for your organization faster than ever before.
See where you're losing money on licensing today,
with a SLIM 360 Health Assessment
Saving money on Office 365 doesn't need to be a complex and labored task. By using SLIM 360, you can start seeing realized savings of up to 40% within six months. You'll see exactly where your budget is being wasted. You'll see what employees are over-licensed, under-licensed, or not licensed at all. Your compliance gaps will be laid out clearly, as well as the value gap in what you're paying for.
To see if you have savings opportunities in your Office 365 and Azure licensing, we invite you to a free read-only health assessment from our software experts.  To start, click the button and book a meeting with us today.